A Memorable Journey: Wine And Cinema Train Tour!
When you think about Korea and drinking in the same sentence, wine is not the first thing that pops in your head. In fact it may not be the second or the third thing in this case. For most of us, drinking in Korea equals soju. Soju is often cited as the national drink of Korea.
Oftentimes I have wondered that in this place where drinking is well loved why hasn't wine made its ubiquitous appearance. Well apparently it has! Turns out I'm late for the party 🙁 Thanks to South Korea's free trade agreements with Chile, the European Union and the U.S, wine is more readily available these days and is rapidly becoming a part of the Korean palate.
Well better late than never, I say…anyways, if you are into wine and are wondering what local stuff Korea has to offer, you are in Luck! Try the Wine and Cinema train. This is a 'one of a kind' train tour developed by Korail, Lotte cinema, and Wine Korea,Inc.
Wine and Cinema train offer a one-day train tour between Seoul and Yeongdong. Wine Korea is situated in Yeongdong (Chungcheongbuk-do), and is the only winery in Korea that maintains a vineyard and produces the wine brand, Chateau Mani. This tour is truly a unique experience.
And when I say 'Unique' I mean it….quiet literally. Where else in the world  can you go on a wine tour, sip on wine while enjoying live music and dancing with a bunch of older Korean ladies. Not to mention get a wine foot spa and learn how to play the Korean traditional drum!
Well let's make a few things clear though. In this country with a long history of a drinking culture, soju has always been the drink of choice. Soju has been favored for generations. Soju is to Korea what vodka is to Russia. So when wine is thrown in that mix well let's just say that the finesse that goes with wine and wine tasting is lacking….but that may not be a bad thing entirely if you enjoy spa's, back rubs and Korean style drinking fun!
This is a fun filled two and a half hour ride with a bunch of activities to occupy you. You can watch movies, sample the wine, play games, dance etc. Once you arrive at your destination you get a free tour of the facility, you can also try making wine soap or take a shot at the traditional drum! And of course drink to your heart's content 🙂
The tour starts at Seoul station. This is where you embark on your unique wine tasting journey! There are two trains: the wine train and the cinema train. Don't worry you get to ride both. If you take the wine train going up you will take the cinema train going back or vice versa.
On the Wine train: Once everyone is seated comfortably and the train starts moving, there is a brief lecture about the proper etiquette of drinking wine and how to hold a wine glass. There are four types of wine that are offered on the train: white, red, sweet red, and bokbunja (복분자), (Korean raspberry wine). This is also accompanied by a snack platter consisting of cherry tomatoes, grapes, chips, crackers, cheese, chocolate, popcorn etc. While you enjoy your wine, you can enjoy live music (usually Korean songs, especially trot).
You can also enjoy fun games like rock-scissors-paper. The wine train provides pen and stickers for the visitors. The stickers are for rock-paper-scissors game, the loser gets a sticker on the face. It's a lot of fun especially when you are tipsy.
On the Cinema train: As the name suggests on the cinema train you can watch movies while enjoying a complimentary snack of kimbab, boiled eggs, and a bottle of raspberry wine. There are subtitles so it's pretty good. Honestly not much action on this train, but then again who needs action when you're watching a good movie.
Once you arrive at the destination, you have to take a coach bus to the winery 'Wine Korea'. It's about a 10-15 minutes bus ride. Once you arrive at the winery you can enjoy a buffet style lunch with unlimited….you guessed it….WINE. The lunch is regular Korean buffet with Korean and Western dishes thrown in the mix…kimbap, bulgogi, rice, pasta, Tangsuyuk, kimchi, fruit etc. nothing special but not bad.
After Lunch you can enjoy the wine foot spa. Basically, there are large hot tubs filled with a mixture of boiling water and red mine. The sweet scent emanating and the heat is wonderful and relaxing. The wine foot bath is not only refreshing but also helps with blood circulation. At this point you may be indulging in communal group massages as a way of mingling and getting to know each other….back rub anyone?
Next on the list is 'Exploration' yay! You get around 20 minutes or so to explore the facility and the nearby buildings. You can look around the wine cave, which is a dark room with wine barrels. Then there are the private wine cellars where anyone can store their wine for a substantial fee. You may want to check out the gift shop. It has a variety of different wines, and also interesting things made from wine bottles, like clocks, candle holders and plant holders.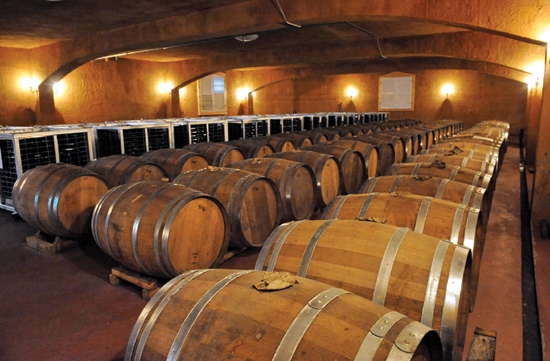 Wine Korea produces the wine brand 'Chateau Mani'. The name  "Chateau" is derived from a winery in the Bordeaux region of France and "Mani" from Manisan which is a mountain in the western part of Yeongdong. Wine Korea consists of a bar, tasting room, wine cellar, and foot spa facility on the first floor, a wine gallery on the second floor and an oak storeroom at the basement level.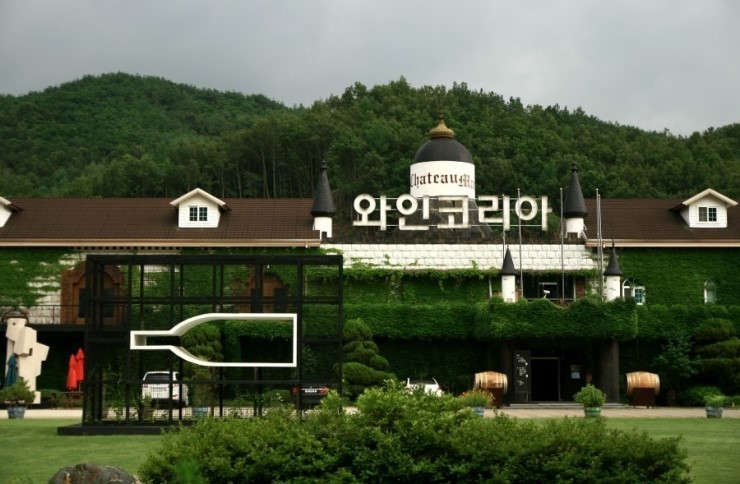 This pretty much sums up the wine tasting part of the tour. Next up is cultural experience and sightseeing. You can visit Pakyon Falls or Okygye Falls. It's a waterfall, nothing spectacular but still pretty.
After the waterfall, you will visit the Nangye Korean Traditional Museum. This is where where you can learn to play traditional Korean drums. There are two types of drums; Janggu (hourglass drum) and Buk (barrel drum), and you will learn to play both. It's more like a crash course for about 30 minutes. You can also watch special performances with traditional Korean instruments.
Once this is done you will be heading back and depending on which train you took earlier, you will take the other train going back.
The Wine Train runs between Seoul and Yeongdong every Tuesday and Saturday morning. The Wine and Cinema train tour cost around 93,000 won per person and includes all experiences, food, and transportation. Although the price may have gone up since I saw some website offering it for 97,000 won. Also depending on the weather and the time of the year your tour might be slightly different. The Wine Train has different versions of its tours. It may also include or exclude stopping at the Geumsan Ginseng Town or No Gun Ri Peace Memorial Park.
For more information visit http://english.visitkorea.or.kr or http://www.winekr.co. For reservations, call 02-3149-3333