Bird Watching at Geumgang Migratory Bird Observatory
Last weekend I went on a drive around the Geumgang dam. The view was awesome! And what made it fantastic was flocks and flocks of migratory birds flying overhead, silhouetted against the setting sun. Thus, inspired by that image I decided to make a post about the migratory birds and Geumgang migratory bird observatory.
Watching birds is not only fun and educational but it also helps us to feel more connected to the world around us. While bird watching is not yet as popular in East Asia as it is in North America and Europe, it is slowly gaining followers and is likely to become popular in the future.
South Korea is becoming 'The it' destination in East Asia when it comes to bird watching, especially migratory birds. Korea has quite a few species of birds and is a great spot for migratory bird watching in the winter.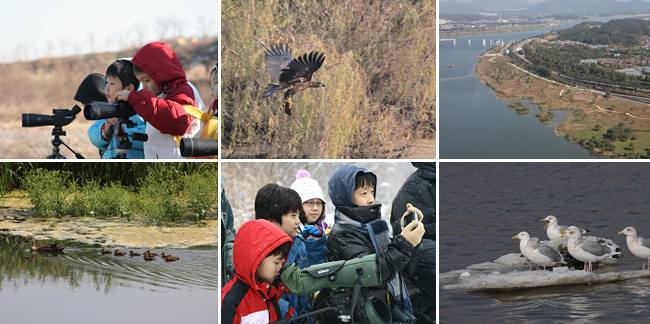 The delta of the Geumgang River is one of Korea's main breeding grounds for migratory birds. With the advent of winter and the weather becoming chilly, countless numbers of migratory birds fly in from cold regions like Lake Baikal in Siberia to stay at their winter habitats in Korea. Around winter time you can see flocks of exotic birds flying in various formations to create a spectacular display for bird watchers.
Saemangeum Reclamation Area south of Gunsan has large mudflats. These mudflats are the most important area for shorebirds in Korea. The fields near the mudflats are one of the best place to watch Daurian Jackdaw. You can also see large flocks of Baikal Teals, mallard ducks, bean geese, Saunders's Gulls and Swan Goose. You maybe one of the lucky ones to sight rare "osculans" Oystercatchers.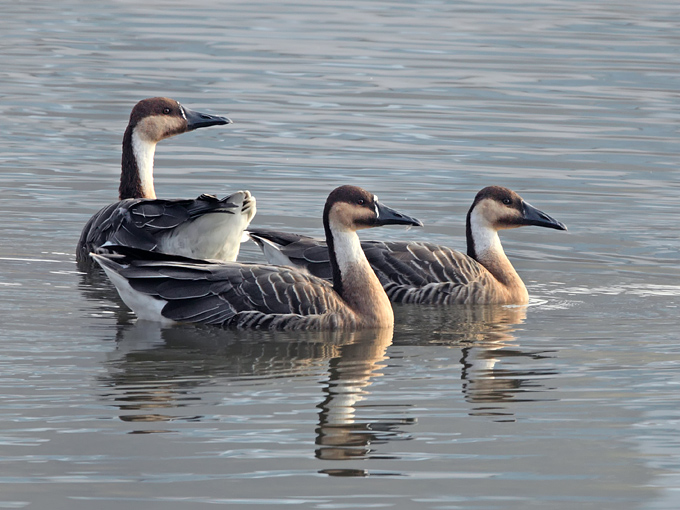 Geumgang Estuary (Gunsan-si), is the winter home for flocks of migratory birds each winter. The estuary with Geumgangho Lake, wide spreads farmland, and an abundance of reeds and tidelands is where many birds stay and breed during the winter. Towering near the birds' wintering site is the 11-story migratory bird observatory.
The Geumgang Migratory Bird Observatory is one of the country's largest natural ecological facility and the most representative sites for migratory birds in Korea. The Geumgang Migratory Bird Observatory is located in Gunsan. It rotates at 360º degrees to provide visitors with views of the Geumgang Estuary, where migratory birds rest in winter.
It has observatories on the ninth and 11th floors, and a year-round displays plus a screening room on the first floor. There are special exhibits on the second floor and lectures and information on birds in the basement where visitors can enjoy various ecological experiences and educational programs. Cultural events are held on the third floor along with a revolving restaurant on the 10th floor.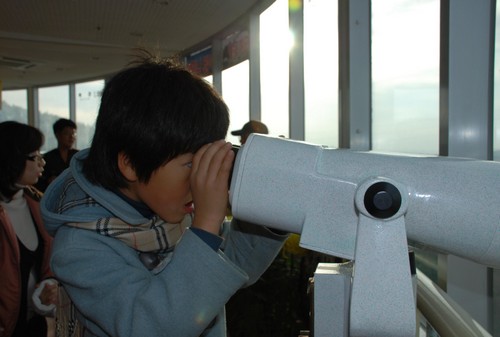 There is also a bird park, museum and incubation experience centre. It is also one of the venues of the annual International Migratory Bird Festival. Every year bird watchers look forward to the festival that offers a chance to observe over 50 different species of migratory birds, including Baikal Teals and whopper swans. Along with guided bird-watching tour, the festival usually includes other programs like bird drawing contest, bird feeding, traditional market and performances.
I went to the festival which was held from the 6th (Fri) to 8th (Sun) of November this year. This year the festival included Migratory Birds Watching Tour, Migratory Birds Golden Bell, Special Exhibitions, Boa Birds (sick birds who need protection) Releasing, Lake Geumgang Migratory Birds Drawing Contest, etc. It was a good experience. Very fun and informative.
There was a traditional food zone for visitors like me, who were starving after all that bird watching. The food was regular Korean affair nothing fancy, but it was warm and delicious!
Tens of thousands of migratory birds flying overhead is truly a magnificent sight. I recommend visiting Geumgang Migratory Observatory especially during winter to enjoy natural scenery, enjoy seeing rare species of birds and have a wonderful time!