Moaksan: Hiking The Korean Way!
Hiking is another national obsession in Korea. Hiking has been dubbed as perhaps the single most popular pastime for Koreans. It is fast becoming a part of the Korean national identity. In fact, for middle age Koreans hiking is not just about keeping in shape but is a social activity where they can hangout with their peers and relax.
I'm sure wherever you live in Korea you have noticed ajosshi's and ajumma's out and about wearing an entire catalog worth of hiking gear complete with sunglasses, hats and not to forget the umissable sun visor and arm guards for the ladies.
I still remember the first time I saw an ajooma in her hiking outfit–I'm talking sun sleeves, hats, neck guards, hiking poles — I was stumbling back to my apartment after a night out with friends in the wee hours of the morning when our paths crossed. Owing to the fact that I was still a bit tipsy after the night's festivities, I almost had a heart attack… My first thought when I saw the lady was 'My God! a Ninja', it was later after the fact that I realized that it was only a middle aged woman going for a hike. Funny but true.
This post is about my hiking trip with my company class students to Moaksan. Moaksan is located in Gimje, Jeollabuk-do just south of Jeonju. Moaksan has an elevation of 793.5 meters, which is about 2602 feet. Moaksan is easily visible from any high point in Jeonju. So my company students (with their hiking club) were going to hike Moak mountain on a fine Saturday morning and invited me to join them. I had been thinking about getting back in shape and so I agreed enthusiastically.
Back then I did not know that in Korea if a mountain has 'ak' in its name it means 'steep'. Clueless in my ignorance, I set out on the the most grueling hike in my life. But let's not skip ahead. Before we move on, let me quickly explain the meaning of the name 'Moak'. Moaksan in Korean, means 'Mother Mountain'. It was called Moaksan because there is a big rock which looks like a figure of a mother holding a baby in her arms or so the story goes. According to another popular opinion the mountain is shaped like a mother cradling her baby, just as Moaksan embraces Geumsansa.
Now all of us who have lived in Korea know that South Korea has its own unique hiking culture. In other countries around the world, people can go on a hike in shorts or jeans, t-shirt and sneakers. But in South Korea it's a definite no, no. Wearing fully decked out mountain climbing gear is the norm here (even for a short hike) and anything less is considered amateurish. So needless to say when I showed up in my cargo pants while everyone else was bedecked in their expensive North face outfits, I felt instantly out of place.
There are several trails you can choose from: hard or easy. Our group wanted to take the hard trail (hardest to be honest), so we stopped on the shoulder of the highway and took the trail from there. It was a very narrow, twisting and steep trail. After about 10 minutes of hiking I was out of breath and ready to keel over and die. It was amazing to see older people zipping past me while I was doubled over trying to breathe. Anyway you get the picture.
As I mentioned earlier, there are several paths to the top of Moak Mountain, but the most popular and easily accessible climb is the Geumsan Temple route. There is a paved road behind the temple that breaks off on the trail and climbs the shoulder of the mountain. It's not a difficult climb, and there are steps on many of the steepest sections, but it can be quite long and tiring. It took us a little over 3 hours or so to get to the top and back. The view from the top is stunning. On a sunny day you can see the historic Jeonju city in all its splendor.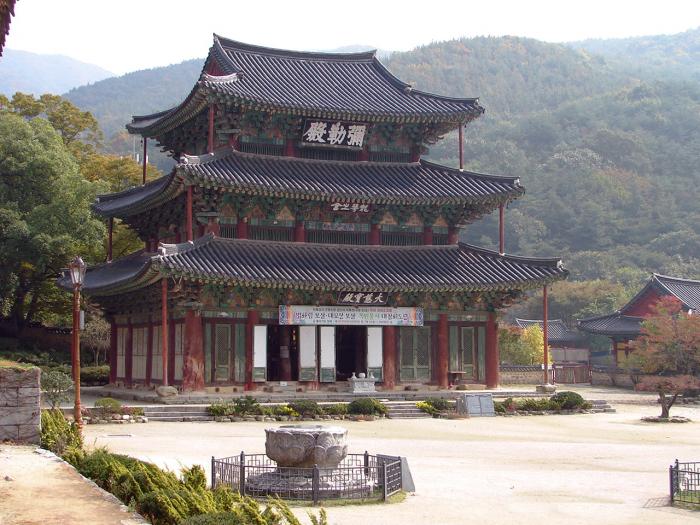 Another great place to visit is the Geumsan Temple or 'Guemsansa'. It is located near the entrance of Moaksan and dates back to 599 AD. The main hall 'Maitreya Hall' was built in 1635 and is Korea's only three-story wooden temple. It is one of the few buildings in Korea that escaped destruction by the Japanese invading forces. It contains the statue of Maitreya or Mireuk 'the future Buddha' in the middle with a height of 11.82 m, and two Bodhisattvas on either side with a height of 8.79 m each.
The other hall contains a collection of carvings of 500 unique Buddha helpers.
You can walk around the temple and see some other unique architectural and historic monuments like:
Seogyeondae: which is a lotus shaped stone pedestal.
 Hyedeogwangsa Jineungtabi: This tortoise shaped pedestal is actually a tombstone for the famous monk Hyedeo Gwangsa.
Ocheung Seoktap: is the five storied stone pagoda.
Yugwak Tachung Seoktap: is the hexagonal multi-storied stone pagoda.
Guemsansa Seokdeung: is the stone lantern just outside the temple.
Nothing is complete without food. If you hike with a group of Koreans like I did, along the hike you will stop to snack and drink booze. Another unique Korean hiking tradition is to make a toast once you arrive at the summit. Usually it is makgeoli, a fermented rice drink that provides a good buzz or soju…although beer is popular among those with a weak liver. We had some kimbab, kimchi, some fruit and cherry tomatoes with some makgeoli and soju.
However, if you forget to bring food along don't worry! There are restaurants and tea houses near the entrance of the temple, at the bottom of the mountain. Sanjang Dawon (산중다원) is a cozy traditional style cafe, where you can sip tea in a peaceful zen atmosphere.
Or if you are starving try Hwarim Hoegwan (화림회관). It's a nice Korean style restaurant that is famous for 닭백숙 (Dak-baeksuk) which is a Korean style chicken soup with ginseng. You can also try (흙돼지주물럭), tokkitang(토끼탕; spicy rabbit soup) or roast duck. The food is delicious and reasonably priced.
If you are thinking about hiking and are in and around Jeonju, I recommend Moaksan. It is easy to get to and the view is amazing! Just don't take the super difficult trail like I did 🙁
All in all, a good place to visit and relax!