Oido (오이도) The End Of The Line!
For all you Seoulites who are looking for a nice romantic New year getaway but are low on cash, here is a destination that might appeal to you. Forget about the tiring road trips, the tolls, the fuel prices, just hop on the subway and make your way over to Oido.
Oido is an "island" that has been incorporated into the mainland. It is in Siheung city in Gyeonggi province and is about 30 kilometers southwest of Seoul. It is at the end of line 4 and takes over an hour by subway.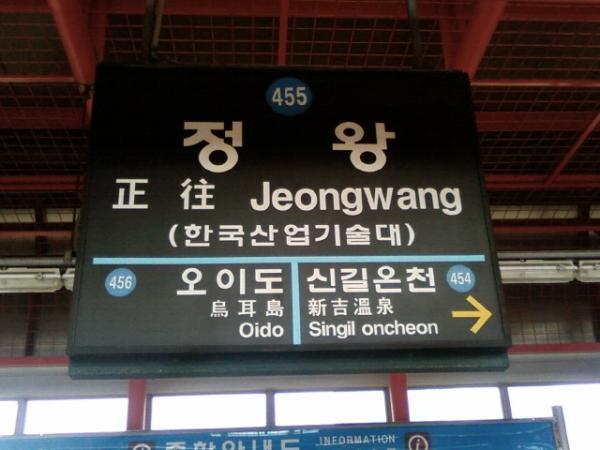 I remember years ago, when I first went there. It was a fine Saturday morning and I had no specific plans other than exploring the metropolitan, that was back then my new home. Since I was new and my Korean limited, I decided to take the subway and boldly go where I'm sure many have gone before!
Oido is the last stop on subway line 4 or the light blue line. Since I had my explorer hat on, I decided to travel to the final destination and find out what was out there. To my delight, I discovered that it is a nice little port town where you can enjoy beautiful scenery and eat some awesomely fresh seafood.
Unlike the beaches of the east coast, Oido is not famous for its clear emerald blue beach. In Fact, the area is famous for its mud flats. It's a popular place to go clam digging during low tide.
However, when the tide is in, you can walk on the seawall, breathe the ocean air and enjoy the scenery.
Oido is well known for its fresh and good quality seafood. There are plenty of seafood restaurants along the beach. Local favorites are sliced raw fish (활어회), clamshell noodle soup (바지락칼국수) and grilled clams (조개구이).
Since Oido is next to the sea you can get some really fresh fish which is best eaten raw. The fish is firm and sweet and goes very well with the savory gochujang and vinegar dipping sauce.
The spicy fish soup or 매운탕 is just the thing to have on a chilly winter day. The spicy warm fish broth is sure to warm you up!
For the grilled clams you just set them on the hot charcoal grill and wait! As the clam cooks the juice collects in the shell. The juice gives the plump, succulent clams a nice juicy, briny salty flavor. If you are a seafood fan, you must try it!
If raw fish or grilled clam is not your thing, try the thick handmade noodles in clam broth. 바지락 (Manila clam or short necked clams) are delicious! The clams are fresh so the broth has a peppery, sweet mild flavor. It is the ultimate comfort food!
The Red Lighthouse (빨간등대) is another famous landmark. Oido is also one of Korea's historical cities with evidence of Korea's Neolithic Age people because of seashells mounds scattered around the island.
Another great place for history buffs is the Dinosaur Egg Fossil Place Visiting Center (공룡알 화석지 방문센터) in Oido. There are fossil exhibits and dinosaur models, along with over 200 dinosaur eggs that are supposedly formed about 100 million years ago.
Oido is a great place away from the busy city life. It's easy to get to and even though it's only about 30 km from Seoul it feels like a totally different world. It's refreshing and a must visit destination whenever you find city life getting too much!