Monthly utility bills and living expense are always a concern when moving to new and unfamiliar territories. For most foreigners who come to Korea, living cost and saving money are troublesome issues. Many times monthly deductions for taxes, utility bills etc are made directly from the paycheck without proper explanation. Also, at times there may be no one around who can explain things in English and also most utility bills in Korea are in Korean with minimum to no English.
It's always good to know what you are paying for. Not to mention knowing how much you pay monthly for utilities on average can help you when making a budget and consequently help you save money.
In Korea, apart from your daily living expenses, you'll also have to pay taxes, health insurance, pension payments, electricity, gas, water, etc.
Most English teachers in Korea, do not have to pay for accommodation as housing is covered by the employer. However, this does not mean that you do not have to pay the utilities. The employer covers the rental deposit but you are responsible to pay for utilities like water, gas, electricity and building maintenance fee. In addition ESL teachers are also required to pay taxes, pension and health insurance.
Electricity 
Electricity usage is on average cheap in Korea. An electricity bill is issued every month and is based on a monthly meter reading. The amount of money you pay each month depends on your usage. Although, generally electric bills are higher in summer due to air conditioning. Using an air conditioner is comparatively more expensive in Korea than what you are used to in your home country.
Gas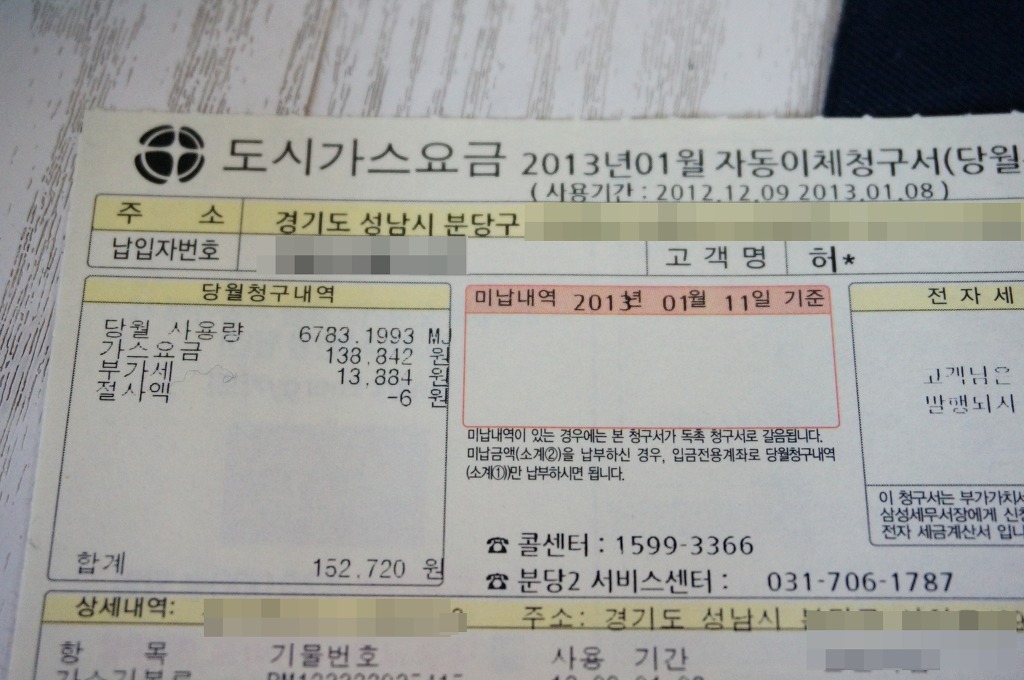 Same is true for the gas. Korea uses ondol or floor heating. Basically underground pipes with warm water, heated by gas or oil heat the floor and ultimately, the whole room. In winter, it's common for heating bills to average 100,000 won or more during the coldest months. The larger your apartment, the more expensive it'll be to heat. Also older buildings tend to be more expensive. Newer buildings have more efficient heating systems and thus are cheaper.
Water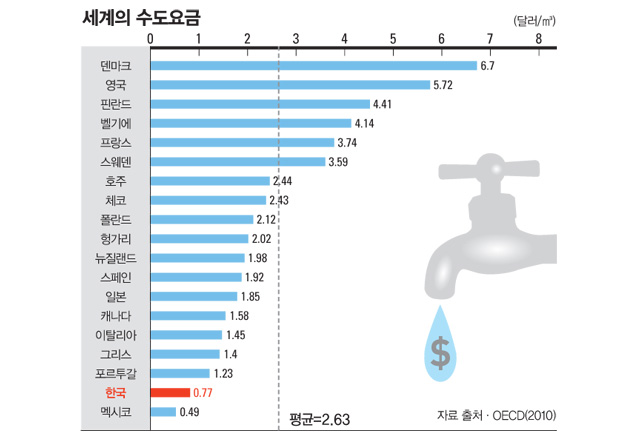 Water usage is also based on a monthly meter reading and is usually included in the monthly building maintenance bill. The amount depends on your usage.
Maintenance and Building Fees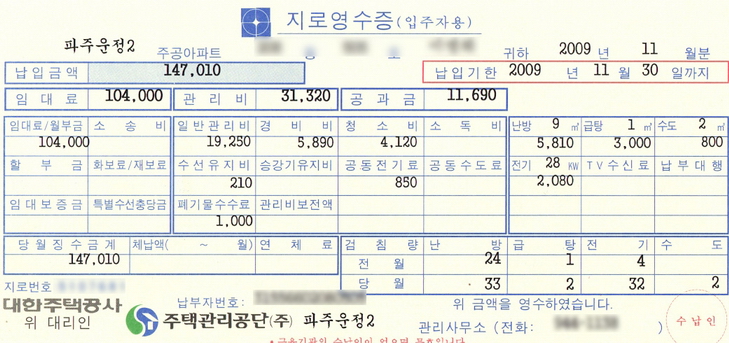 All apartments have monthly maintenance fees known as gwanlibi (관리비). This is a general fee that covers general maintenance and cleaning of the building, security guards etc. Maintenance fees range from 40,000 won or more depending on the size and location of the complex.
Other than these you may also pay Internet and phone bills depending on your needs. Internet is faster and cheaper than other places and the amount of phone bill depends on your payment plan. Korean telecom companies offer various data and payment plans.
Income Tax
Income tax on average is around 2% to 5% depending on your nationality and earnings. Canadians pay about 2% in income tax while teachers from other countries pay around 3.3%.
National Health Insurance (NHI)
The NHI deduction is approximately 5% of your monthly salary, of which you pay 2.5% and your employer pays the other 2.5%.
National Pension
The National Pension deduction is 9% of your monthly salary, of which your contribution is 4.5% and your employer pays the other 4.5%.
Knowing what to pay for and how much can make a world of difference when it comes to budgeting and saving while staying in Korea. Hopefully, this will give you a general idea of what you can expect when it comes to utility and bills in Korea.
---
---
---